An example of how effectively wheatgrass can heal wounds is shown in the pictures below. A skin graft has been treated by orthodox medical means for six weeks. The wound is healing very slowly and looks unhealthy because of poor blood supply. (Fig. 1)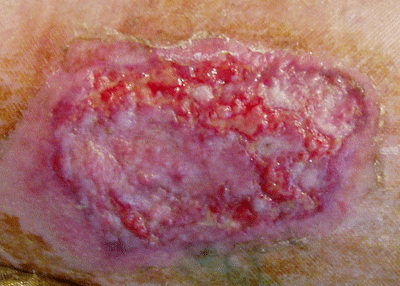 Wheatgrass extract was applied at this stage. Then, (see Fig. 2) after only 2 days, the graft is already recovering due to restoration of the blood supply to the wound.
In Fig. 3. the graft has completely healed in 3 weeks. One would therefore expect wheatgrass to heal other "wounds" in a similar way, such as anal fissure - which it usually does well.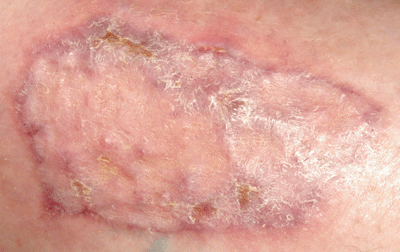 How does wheatgrass facilitate and accelerate wound healing?
Wheatgrass extract clearly hastens the natural healing process. Within 24-48 hours of application, this wound surface has become covered with a thin, protective film of new cells, and blood supply, essential for healing, has been restored. Also, pain has been eliminated, which is rarely seen with orthodox healing methods, and the dressing is easily removed because the extract has prevented adhesion to the skin.
In the majority of cases, antibiotics are not required. Dressings are easily removed from the wound surface and healing is significantly faster. Also, rapid reduction of swelling and absence of dried blood facilitates dressing changes. Wound infection is something of the past.