The terrorist attacks in downtown Mumbai having recently shaken the world, arriving at the International Airport soon afterwards made caused a degree of apprehension.
But, terrorists or no, I was determined to complete my mission: to learn as much as I could about leprosy during my brief stay in India. Although the disease is still occurs sporadically in northern Australia, I had never actually seen a case in my home country.
Leprosy, caused by a mycobacterium, affects mainly the  nerves, skin and mucous membranes. Patients can lose sensation and motor activity such as inability to move joints. Sensory loss is patchy and predominantly affects the hands and feet. Because affected skin is anaesthetised, the patient is unaware if it has been injured or broken. Once this happens, an ulcer may form which can last the patient's lifetime. Many persist for  30 years or more.
Surgery e.g. skin grafting, can help but there is no satisfactory medical treatment available. Even if the  leprosy is cured, the ulcers tend to remain.
So we tested our wheatgrass extract on a patient who had ulcers on the sole of his foot that had been present for a year. After three months' treatment, it had healed significantly. (View more pics and read a fuller account of the study).
We then decided to perform a pilot study of 20 patients, the results of which have been quite remarkable. For example, this ulcer over the front of the ankle and present for 2 years healed completely in 9 weeks. So far one quarter of the ulcers treated have healed.
Today in some parts of India, leprosy is still thought to be due to sinful behaviour. Unfortunately for patients and health workers, this type of myth has bedevilled leprosy sufferers for several thousand years. The stigma of leprosy often leads to ostracism by family, friends, employers and the community as a whole which can be immensely damaging to patient morale, self-esteem and dignity. Depression is understandably common in these patients. The irony is that, contrary to popular opinion, the disease is not transmitted via skin contact, but from nasal droplet infection. This often takes a long time to develop, even while living in cramped quarters.
Now there is a glimmer of hope for many of these unfortunate people. Healing their ulcers may, in time, remove a major impediment to them being once again accepted into the community at large.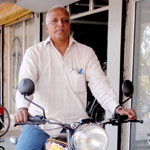 Rajan has spent 30 years working in close contact with leprosy patients, sharing their lives and treating their ulcers – with ungloved hands. He does this deliberately in an effort to convince others that leprosy is not easily transmitted to other human beings.
Dr. Chris Reynolds.