Psoriasis is a common skin condition that can affect people of all ages. It is characterised by a scaly rash that may or may not be itchy. It is not contagious nor is it due to an allergy.
There is a genetic predisposition to psoriasis (it can run in families) but there is also an autoimmune element involved. i.e. the body's immune system attacks normal skin and causes damage. The condition affects men and women equally and is often very mild, however it can become quite severe in some patients
About 5% of psoriasis sufferers will develop joint pains (psoriatic arthritis) which can affect one or more joints.
Psoriasis often responds well to wheatgrass extract resulting in reduced scale, thinning of plaque (the lesions can become very thick and unsightly) and reduced inflammation and itch. Apply a small amount of wheatgrass over the worst affected areas once on alternate days, and persevere. Less is usually best when using wheatgrass for skin and other conditions.
Typically, itch tends to diminish early followed by thinning and flattening of plaque. Following continued daily application, lesions begin to fade and can eventually disappear or reduce in number or size.
This patient, with a four year history of psoriasis did very well using the wheatgrass extract just on alternate days.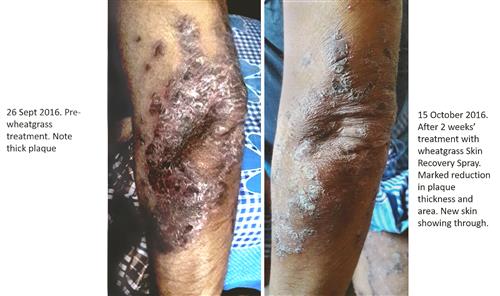 Note the rather dramatic reduction and disappearance of some of the thick plaque revealing normal skin underneath after only two weeks' application of wheatgrass.
And, in the picture below, in the same patient there has been remarkable recovery in his severely damaged psoriatic fingernails in just 5 months. I have never seen such recovery in my 40 plus years in medical practice.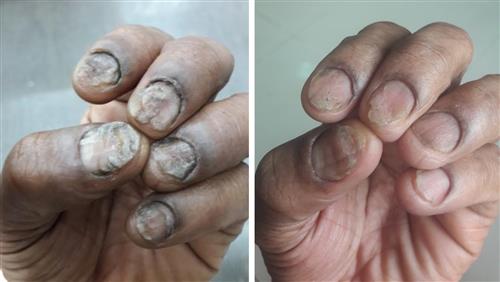 Having felt quite helpless witnessing the despair of psoriatic patients many times in my medical career, wheatgrass has been a godsend for many of them and a great relief to me, because it actually works for many sufferers. I recommend applying just a little of the wheatgrass extract three times a week only, and persevere.
Case History: Psoriasis 20 years
Back & buttock lesions
Psoriasis in a 63 yo male present for 20 years. Numerous topical applications used plus UV light and cortisone injections with little, if any improvement over the years. Some relief in summer months.
The photograph on the left (after one month's treatment with wheatgrass extract) shows thick plaque, heavy scale formation and rough, thickened edges around lesions. By this stage, the patient's itch had significantly improved, and only required occasional topical steroid application.
Centre (6 months treatment), plaque visibly thinner, lesions flattening and spreading, pinkish skin colour returning to lesion surface and edges more clearly defined. Most noticeable are the numerous "skin lines" forming, a sign that I believe shows that skin "normalisation" has begun. More "pseudolesions" have appeared, but these tend to become pale and disappear in time. At this stage, the patient's genital psoriasis, present for many years, had largely resolved.
Right (9 months treatment) Lesions flatter and fading, approaching normal skin colour. Significant improvement in appearance of lesions over treatment period.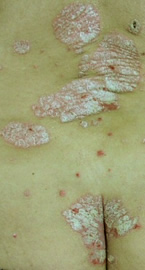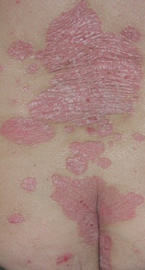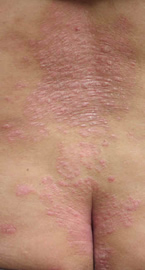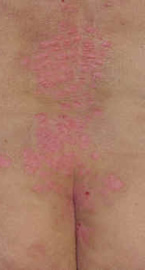 Dr. Chris Reynolds.