Leprosy Ulcer Study, India 2020-21
Leprosy, caused by the bacteria Mycobacterium leprae, frequently affects skin and peripheral nerves, predisposing the skin to the formation of indolent, incurable ulceration, particularly of the hands and feet. As the affected skin is anaesthetised, the patient is unable to feel the pain. Once this happens, an ulcer readily forms which can last the patient's lifetime. Many persist for 30 years or more.
Procedures like skin grafting can help but there is no effective medical treatment available. Even if the leprosy is cured, the ulcers tend to persist.
This study was conducted in Indore, India, where an extract of wheatgrass sprouts was sprayed on the surface of chronic leprous ulcers, once a month and covered with a light dressing. Dressings were changed daily. No other treatment was used.
Case: B3 Age: 60 (F) Ulcer duration: 20yr (Sole of left foot)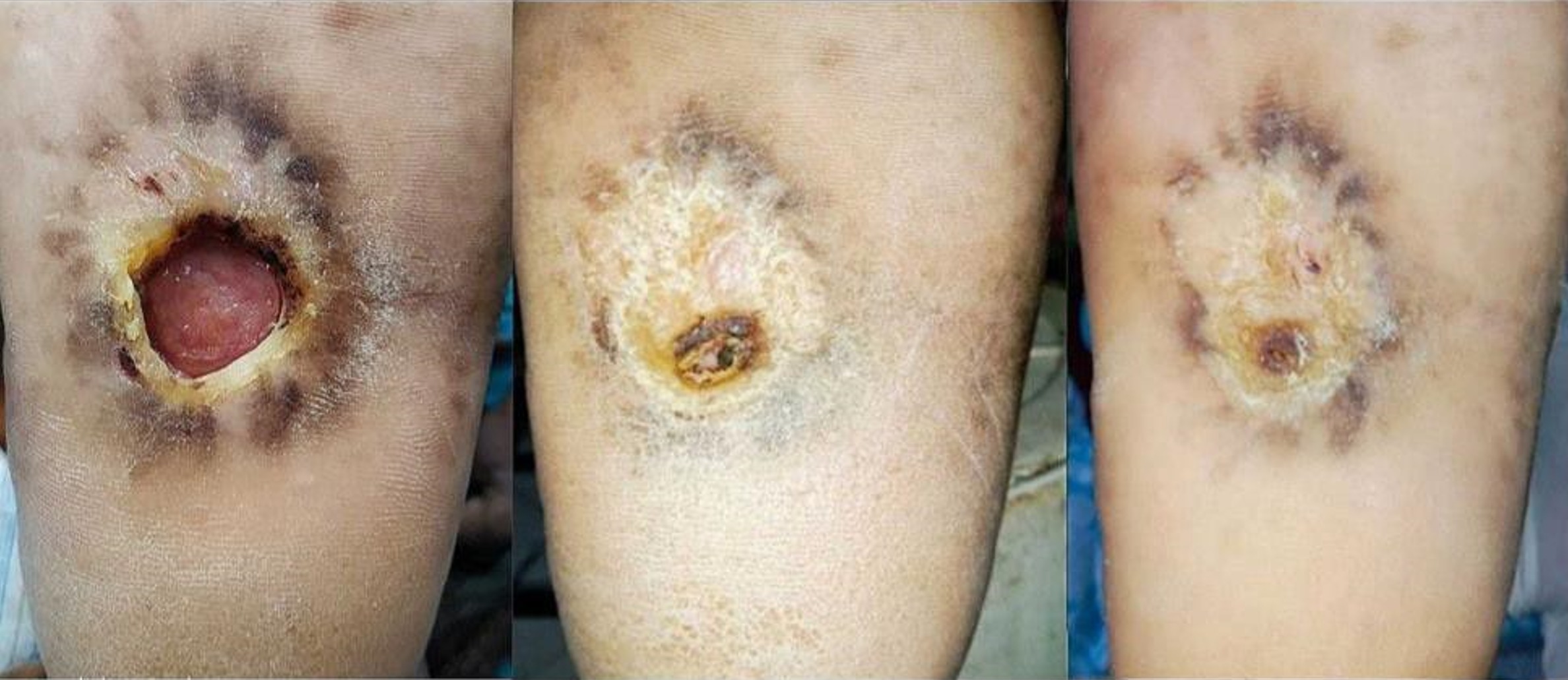 Case: A3 Age: 65 (M) Ulcer duration: 15yr (Left foot)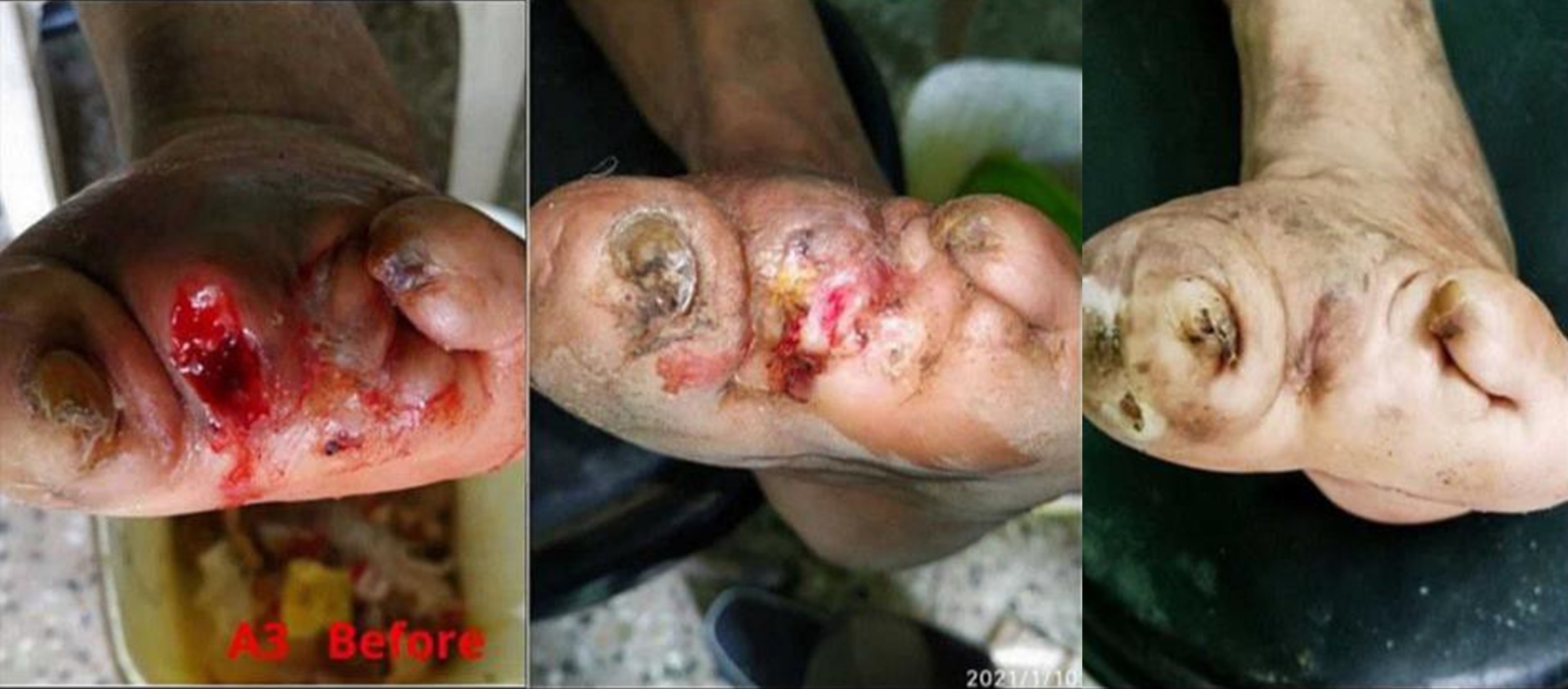 Case: B1 Age: 60 (F) Ulcer duration: 15yr (Right foot)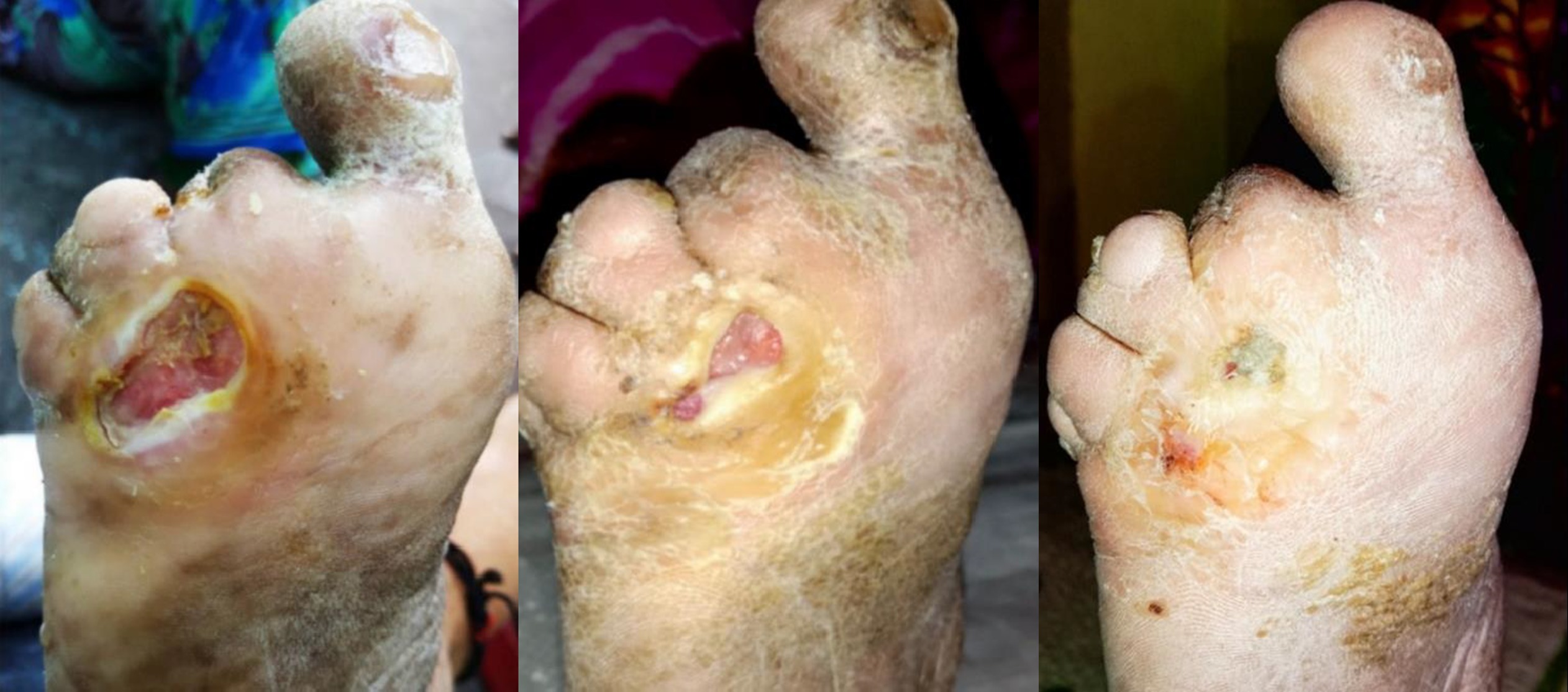 Case: A1 Age: 50 (M) Ulcer duration: 1yr (Left hand)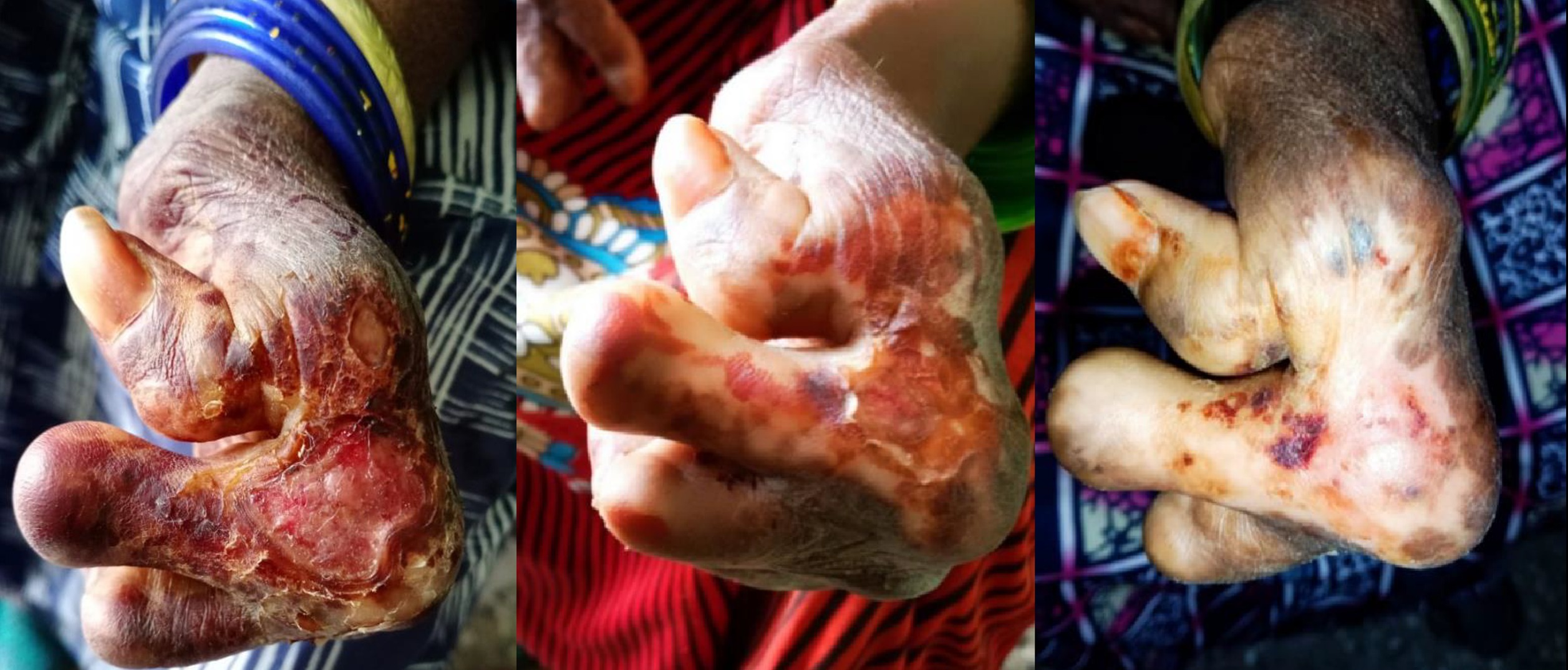 Case: A3 Age: 65 (M) Ulcer duration: 15yr (Right ankle)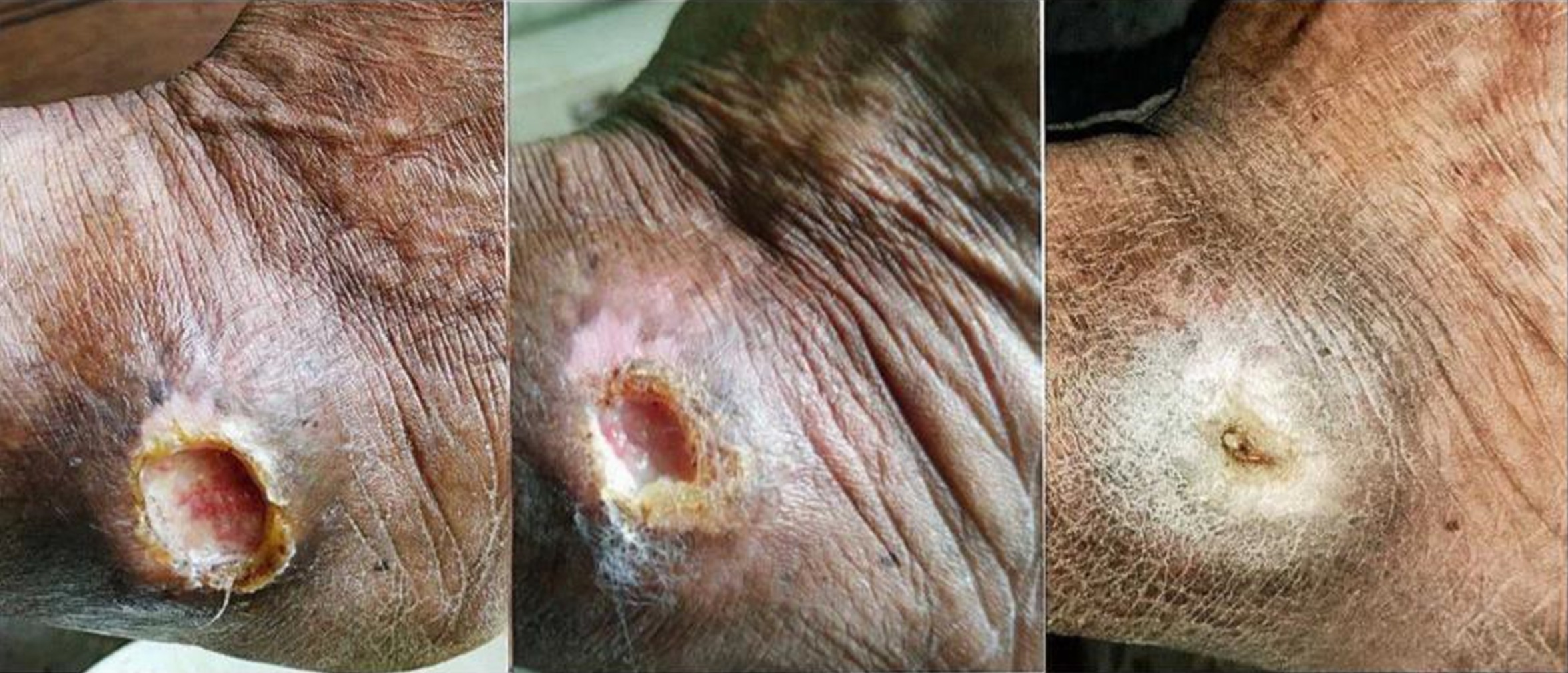 Case: B4 Age: 80 (M) Ulcer duration: 5yr (Left hand)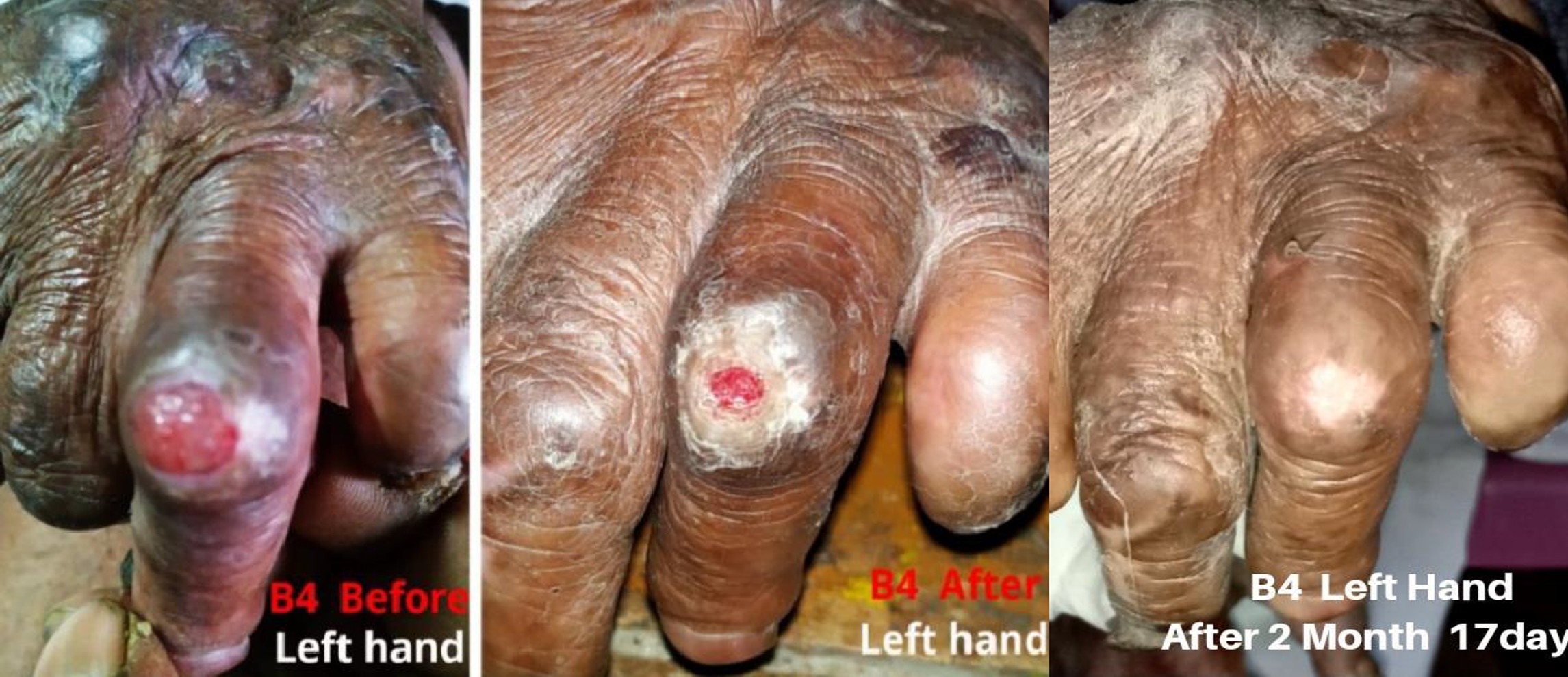 Case: A5 Age: 62 (F) Ulcer duration: 3 months (Left hand)

The difficulty of healing skin ulcers caused by the leprosy bacterium is widely known, but modern medicine is yet to find a solution to the problem.
Clearly, all seven leprous ulcers in this study, considered "untreatable" for a number of years, have healed completely after several monthly applications of wheat grass extract. (See details on photographs.)
lobal prevalence of leprosy is approximately estimated at 127,506  (W.H.O. 2021) Many of these leprosy ulcer patients could be relieved of their skin ulcers as well as avoid amputation, if wheatgrass extract applied to their wounds, just ONCE A MONTH. 
W.H.O. states there were 202,256 new leprosy cases registered globally in 2019. 
Dr. C. L. Reynolds. M.B.,B.S.
Queensland. Australia.
(Email: info@wheatgrasshealing.info)