Wheatgrass rapidly heals canine radiation burns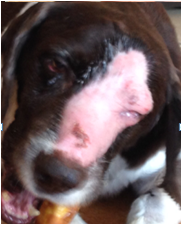 "My Springer spaniel Pluto had radiation therapy for a cancerous tumour in his nose so I used the wheatgrass spray and recovery cream.
"You can see that it healed the wound so quickly. I was so happy with the results. We also gave him the wheatgrass shots, added to his food. I would totally recommend wheatgrass.
"Please use Pluto's story to help other pet owners. Thank you, I can't tell you how much that wheatgrass extract helped. We were beginning to think we had done the wrong thing by him in having the radiation. He was so miserable and uncomfortable.
The cream the hospital gave us wasn't doing anything but the wheatgrass cleared it up within a week!
Amazing stuff!
V. A. Australia. 3 March 2016