Earache due to infection in a young child (otitis media), can cause severe pain and fever and be difficult to manage. Other than oral pain-killers such as paracetamol and antibiotics, there is not a lot more that can be done to help relieve their symptoms.
I recall one 6 year old boy whose mother brought in to the surgery. He had a high temperature and was crying with pain and holding his hand over his ear.
For three days and sleepless nights his mother had done her best to keep him comfortable, plying him with paracetamol, unsuccessfully.
Ear examination revealed a red, glowing. blister on his eardrum (bullous myringitis) similar to the picture below. He also had a high fever.
There is very little, if anything, a doctor can do to ease this source of pain other than prescribe pain-killers such as paracetamol.  Bursting the blister is out of the question.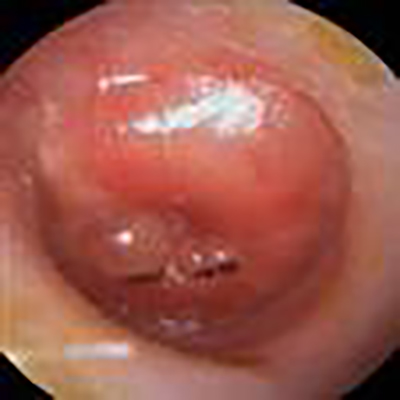 Instead, with mother's permission, I inserted a few drops of wheatgrass extract into the boy's ear. Less than ten minutes later, I asked him to get down off the examination couch - but he was fast asleep!
When I reviewed him the the following day, his fever had gone, there was no sign of the blister on his eardrum or inflammation, and he had slept soundly.
The boy's mother had also enjoyed a peaceful night's sleep.
>> Return to Cases & Conditions