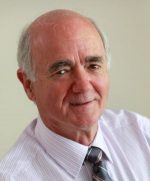 Born, 26 May, 1941. Perth, Western Australia.
In 1973, graduated M.B.,B.S. (Bachelor of Medicine, Bachelor of Surgery) at the University of Western Australia. He spent most of his medical career working in family medicine, in Perth and Melbourne, Victoria. In 1989 he took a break to work for the International Organisation for Migration in Hong Kong, medically assessing Vietnamese refugees for resettlement. He then moved to Moscow for a year (1983) to oversee medical screening of Russian Jewish migrants emigrating to the United States.
In 1985, after returning to family medicine in Perth, Dr. Chris "re-discovered" the then unemployed classical pianist, David Helfgott who regularly entertained his audience playing for clients in his Perth winebar, "Riccardo's". He also introduced David to his wife-to-be from Sydney, Gillian Murray. (This story was told (albeit erroneously) in the movie "Shine", winning an Oscar for Australian actor Geoffrey Rush.)
In 1995, Dr. Chris and his family moved to Melbourne, Victoria. It was there that the remarkable healing effects of a cereal grass extract reignited his passion for medical practice. So successful were the results, that in 2002, he created the commercial "Dr Wheatgrass" healing products that have continued to prove their remarkable effectiveness, ever since.
Dr. Reynolds is now well known for his clinical and scientific knowledge of wheatgrass extract as a natural healing agent. He lives on the Sunshine Coast in the State of Queensland.
Citations:
Reynolds, C., Galvin G.: The availability of patients for teaching purposes in the Perth metropolitan area, March to May, 1971. Med. J. Aust. 1972 Oct 14;2(16):891-5.
Reynolds, C. The demise of chlorophyll and a fresh look at wheatgrass therapy.: J. Australasian Integrative Med. May, 2004. (PDF)
Reynolds, C.: Thalassemia: Wheatgrass shows promise as an effective inducer of fetal haemoglobin. J. Australasian Integrative Med. Assoc. August, 2004.
Reynolds, C.: A DNA-technology-based cellular assay used to measure specific biological activity in a wheatgrass extract. J. Australasian Integrative Med. Assoc. March, 2005. (PDF)
Reynolds, C. Reynolds, S. Vardharajan, L. A novel topical application (wheatgrass extract) influences closure of plantar ulcers in leprosy patients: case studies in India. J. Sci. Healing Outcomes. Jan. 2014. Vol. 6:11-17
Reynolds, C. Vardharajan, L. La Selva, S. Wheatgrass extract heals leprous skin ulcers. J. Sci. Healing Outcomes. Feb. 8, 2022.
"Wheatgrass is a medically important, highly effective, broad spectrum, natural healing agent."
Dr. Chris Reynolds. (1995)