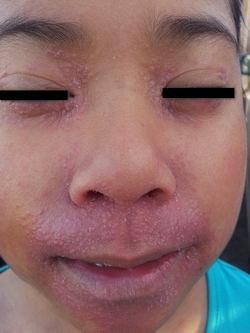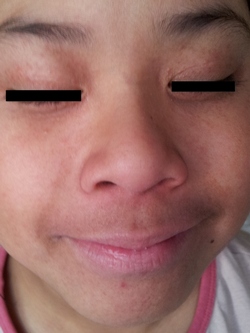 This 8 year old girl suffered from severe generalised "eczema" since she was 2 years old. Since then, she had been treated daily with topical steroids including Dermaid, Elocon, Eleuphrat, Sigmacort and even Elidel which is a very potent immune-suppressant drug. Any dose reduction resulted in severe rebound symptoms – the so-called "Red Skin Syndrome". Note the marked inflammation and tissue swelling around the eyes and mouth. She was commenced on daily wheatgrass extract plus oral wheatgrass extract, and gradual reduction of steroids began.
Mother's Testimonial:
Dear Dr. Chris.
I would like to thank you for all your help and support through out the ordeal I went through with my daughter's eczema. Without you and your wheatgrass, I would have just keep going back to cortisone as it's the only cream that the Specialist will recommend and didn't realised how much damaged it was causing my daughters skin especially the face. I have not applied cortisone on her face since using wheatgrass and will never use it again. I can't thank you enough for helping me heal my daughter's face. Thank you once again from the bottom of my heart.
Jo-Anne.
Dr. Chris Reynolds' comment:
This is a classic case of topical steroid-induced, Red Skin Syndrome. A situation where topical steroids have, over time, strongly suppressed one's topical (and systemic) immunity, and atrophied the skin to the point that reduction of steroid dosage leads to often severe rebound inflammation and swelling. This can be quite unbearable for the patient and take many months to overcome and a lot of suffering if steroids are ceased abruptly.
Until I came across wheatgrass, which helps prevent this rebound and restores structure and function of the skin in time, my only option was to do what most doctors still do – give the patient a stronger steroid to reduce inflammation and other symptoms of topical steroid withdrawal. Some specialists in this field recommend abrupt and complete cessation of all steroids and for the patient to go "cold turkey". Given the thousands of patients I have successfully helped dispense completely with these skin-damaging applications using wheatgrass extract, I would have to question their approach. After all, they are not the ones who have to suffer the withdrawal.
Dr. Chris Reynolds.
View following links for Eczema cases on this website.